NVIDIA GeForce Go 7800 GTX
NVIDIA GeForce Go 7800 GTX was the top graphic card of the 7000 series from NVidia before the introduction of the 7900.
Specificaties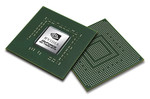 prestaties klasse: 1
reeks: GeForce Go 7000
codenaam: G70M
pijpleiding: 24 pixel-pijpleidingen en 8 vertex-pijpleidingen
Snelheid: chip: 440 MHz, geheugen: 550 MHz
geheugen: GDDR3, maximum: 512MB, Bus: 256Bit
directX: 9c, Shader Model 3.0
electriciteitsverbruik: 65 Watt
gebruik: grote en zware notebooks
andere info: zelfde energieverbruik en hitteontwikkeling als 6800 Ultra
Benchmarks
Hier vindt u een lijst met benchmarkwaarden, die met deze videokaart kunnen worden bereikt. De waarden kunnen sterk wegens verschillende hardware afwijken (processor, geheugen).
3DMark01: 24800 punten
3DMark03: 14800 punten
3DMark05: 6600 punten
3DMark06: 4000 punten
type punten
| | |
| --- | --- |
| | 60 |
| | 140 |
| | 170 |
| | 200 |
| | 280 |
| | 280 |
| | 560 |
| | 674 |
| | 700 |
| | 800 |
| | 900 |
| | 900 |
| | 900 |
| | 1150 |
| | 1300 |
| | 1800 |
| | 1900 |
| | 2200 |
| | 2330 |
| | 2500 |
| | 2700 |
| | 2800 |
| | 3000 |
| ATI Mobility Radeon X1900 | 3460 |
| | 3800 |
| | 3900 |
| | 4000 |
| | 4690 |
| | 4700 |
| | 5000 |
| | 5214 |