NVIDIA GeForce RTX 3070 Ti Laptop GPU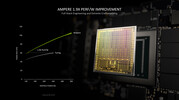 De Nvidia GeForce RTX 3070 Ti Laptop GPU (mobiel, GN20-E6, Max-P, Max-Q) is een mobiele grafische kaart voor notebooks en de opfrisser van de RTX 3070. Hij werd begin 2021 aangekondigd op CES en is gebaseerd op dezelfde GA104 Ampere chip als de oude RTX 3070 Laptop. Vergeleken met de oude kaart biedt de nieuwere 15% meer shaders maar minder kloksnelheid. Hij zal nog steeds beschikken over de 256 Bit geheugenbus en 8 GB GDDR6. De RTX 3070ti is verkrijgbaar in verschillende vermogensvarianten, variërend van 80 Watt TGP met een Boost klok van 1035 MHz tot 125 Watt modellen met een Boost klok van 1485 MHz.
Er is geen Max-Q variant meer (voorheen gebruikt voor de low power varianten) maar elke OEM kan ervoor kiezen om Max-Q technologieën te implementeren (Dynamic Boost, Whispermode).
De prestaties zijn afhankelijk van de TGP instelling en de koeling van de laptop. Gemiddeld zou het ergens tussen de oude RTX 3070 Mobile en RTX 3080 Mobile moeten liggen (bij vergelijkbare TDP-instellingen). De kaart is dan ook het meest geschikt voor QHD gaming in max details (voor veeleisende games als Cyberpunk 2077). Minder veeleisende games zoals de Farming Simulator 22 of oudere games zouden ook in 4K moeten draaien met max. detail instellingen.
De GA104 chip biedt 6.144 FP32 ALUs waarvan de helft ook INT32 instructies kan uitvoeren (dus 3.072 INT32 ALUs). De RTX 3070 Ti zal echter niet alle ALU's op de chip gebruiken. Met Turing zouden alle shaders nog steeds FP32 of INT32 instructies kunnen uitvoeren. De raytracing en tensor cores op de chip zijn volgens Nvidia ook verbeterd. De RTX 3070 Ti mobiele serie gebruikt 5.888 van de 6.144 cores. De Ampere-chips bevatten ook een verbeterde 5e generatie video-encoder (NVENC voor H.264 en H.265) en een 7e generatie decoder (voor diverse formaten nu inclusief AV1).
De GA104 chip wordt door Samsung gefabriceerd in 8nm (8N), wat de 7nm node bij TSMC (o.a. gebruikt door AMD en ook voor de professionele GA100 Ampere chip) niet helemaal kan bijbenen.
GeForce RTX 3000 Serie

| | | |
| --- | --- | --- |
| NVIDIA GeForce RTX 3090 Ti | 10752 @ 1.56 - 1.86 GHz | 384 bit @ 21000 MHz |
| NVIDIA GeForce RTX 3090 | 10496 @ 1.4 - 1.7 GHz | 384 bit @ 19500 MHz |
| NVIDIA GeForce RTX 3080 Ti | 10240 @ 1.37 - 1.67 GHz | 384 bit @ 19000 MHz |
| NVIDIA GeForce RTX 3080 12 GB | 8960/ cores @ 1.26 - 1.71 GHz | 384 bit @ 19000 MHz |
| NVIDIA GeForce RTX 3080 | 8704 @ 1.45 - 1.71 GHz | 320 bit @ 19000 MHz |
| GeForce RTX 3080 Ti Laptop GPU | 7424 @ 0.98 - 1.59 GHz | 256 bit @ 14000 MHz |
| NVIDIA GeForce RTX 3070 | 5888 @ 1.5 - 1.73 GHz | 256 bit @ 14000 MHz |
| GeForce RTX 3080 Laptop GPU | 6144 @ 0.78 - 1.25 GHz | 256 bit @ 14000 MHz |
| NVIDIA GeForce RTX 3060 Ti | 4864 @ 1.41 - 1.67 GHz | 256 bit @ 14000 MHz |
| GeForce RTX 3070 Ti Laptop GPU | 5888 @ 0.92 - 1.48 GHz | 256 bit @ 14000 MHz |
| GeForce RTX 3070 Laptop GPU | 5120 @ 0.78 - 1.29 GHz | 256 bit @ 14000 MHz |
| NVIDIA GeForce RTX 3060 | 3584 @ 1.32 - 1.78 GHz | 192 bit @ 15000 MHz |
| GeForce RTX 3080 Max-Q | 6144 @ 0.78 - 1.25 GHz | 256 bit @ 6000 MHz |
| GeForce RTX 3070 Max-Q | 5120 @ 1.29 GHz | 256 bit |
| GeForce RTX 3060 Laptop GPU | 3840 @ 0.82 - 1.7 GHz | 192 bit @ 14000 MHz |
| GeForce RTX 3060 Max-Q | 3840 @ 1.28 GHz | 192 bit |
| NVIDIA GeForce RTX 3050 | 2560 @ 1.55 - 1.78 GHz | 128 Bit bit @ 1750 MHz |
| GeForce RTX 3050 Ti Laptop GPU | 2560 @ 1.22 - 1.49 GHz | 128 bit @ 12000 MHz |
| GeForce RTX 3050 Laptop GPU | 2048 @ 1.24 - 1.5 GHz | 128 bit @ 12000 MHz |

Codenaam
GN20-E6
Architectuur
Ampere
Pipelines
5888 - verenigd
TMUs
184
ROPs
96
Raytracing Cores
46
Tensor / AI Cores
184
Core-snelheid
915 - 1480 (Boost) MHz
Geheugensnelheid
14000 effective = 1750 MHz
Geheugenbusbreedte
256 bit
Geheugentype
GDDR6
Max. hoeveelheid geheugen
8 GB
Gedeeld geheugen
nee
Memory Bandwidth
448 GB/s
API
DirectX 12_2, Shader 7.0, OpenGL 4.6
Stroomverbruik
125 Watt (80 - 125 Watt TGP)
Aantal Transistoren
17.4 Billion
Die Size
392 mm²
technologie
8 nm
PCIe
4.0
Displays
HDMI 2.1, DisplayPort 1.4a
Faciliteiten
NVIDIA DLSS, NVIDIA Reflex, Resizable BAR, NVIDIA Broadcast, NVIDIA Ansel, NVIDIA ShadowPlay®, NVIDIA G-SYNC®, Advanced Optimus, Nvidia Max-Q, Dynamic Boost, VR-ready, Nvidia Omniverse
Laptop Grootte
groot
Aangekondigde datum
04.01.2022
Benchmarks
Performance Rating
- 3DMark 11 + Fire Strike + Time Spy