AMD Radeon RX 460 (Laptop)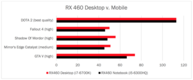 De AMD Radeon RX 460 Notebook (ook gekend als RX 460M)is een laptop-GPU gebaseerd op de kleinere Polaris 10-chip in 14nm-FinFET. De kaart is gebaseerd op dezelfde chip als de RX 460 voor desktops met 896 shaders en gelijkaardige kloksnelheden (1180 tegenover 1200 MHz). AMD kondigde de kaart aan bij de lancering van de RX 460 en merkte op dat de mobiele versie slechts iets trager is (0-7% in de voorgestelde benchmarks) dan de volwaardige desktop-GPU.
De RX460M zou volgens AMD lanceren in een HP Omen laptop en werd ook voorgesteld in de Asus X550IU. De desktopversie van de RX 460 (XFX) was iets sneller dan een vernieuwde GeForce GTX 965M. De mobiele versie zou daarom ongeveer even snel moeten zijn als een oudere GTX 965M en iets trager dan de RX 460 voor desktops. De kaart zou vooral geschikt moeten zijn voor Full-HD-resolutie en hoge instellingen (iets verlaagd).
De RX 460 voor laptops zou over alle features van de RX 460 / Polaris 10 voor desktops beschikken: DisplayPort 1.4, HDMI 2.0b, HDR, verbeterde en- en decodering van H.265 en architecturale verbeteringen (bv. voor Compute Shaders en VR).
Het energieverbruik zou iets lager moeten zijn dan dat van de RX 460 voor desktops; deze heeft een TDP van 75 Watt voor de gehele kaart.
RX 460 which is rated at a TDP of 75 Watt for the whole card.
Fabrikant
AMD
Radeon RX 400M Serie

| | | |
| --- | --- | --- |
| Radeon RX 480 (Laptop) | 2304 | 256 bit |
| Radeon RX 490M | | |
| Radeon RX 460 (Laptop) | 896 @ 1.18 GHz | 128 bit @ 6000 MHz |
| Radeon Pro 460 | 1024 @ 0.9 GHz | 128 bit @ 5000 MHz |
| Radeon Pro 455 | 768 @ 0.86 GHz | 128 bit @ 5000 MHz |
| Radeon Pro 450 | 640 @ 0.8 GHz | 128 bit @ 5080 MHz |

Codenaam
Polaris 11 / Baffin XT
Architectuur
Polaris
Pipelines
896 - verenigd
Core-snelheid
1180 (Boost) MHz
Geheugensnelheid
6000 MHz
Geheugenbusbreedte
128 bit
Geheugentype
GDDR5
Max. hoeveelheid geheugen
4096 MB
Gedeeld geheugen
nee
DirectX
DirectX 12
Aantal Transistoren
3000 miljoen
technologie
14 nm
Faciliteiten
DisplayPort 1.3 HBR / 1.4 HDR Ready, HDMI 2.0, AMD FreeSync
Laptop Grootte
groot
Aangekondigde datum
08.08.2016
Benchmarks
Performance Rating
- 3DMark 11 + Fire Strike + Time Spy