NVIDIA GeForce GTX 470M SLI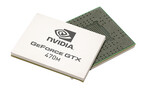 De NVIDIA GeForce GTX 470M SLI is een high-end grafische oplossing voor laptops gebaseerd op twee GeForce GTX 470M grafische kaarten in SLI-modus. Meestal rendert elke kaart een geheel frame. Daarom kan er rond de 30 fps micro-stottering voorkomen. Dit gebeurd doordat er een verschillende tijdspanne tussen twee frames zit (ofwel, twee frames vrijwel tegelijkertijd en daarna een relatief langere periode tot de volgende frame). Elke GTX 470M is gebaseerd op de GF 104 core en heeft dan ook ondersteuning voor DirectX 11 en OpenGL 4.0.

GF104 architectuur

De GF104-core van de GTX 470M is gebaseerd op de GF100-core van de GeForce GTX 480M en heeft 384 cores en een 256-bit geheugenbus voor GDDR5 geheugen. De GTX 470M kan echter maar over 288 van de 384 cores en een 192-bit geheugenbus beschikken. De architectuur van de GF104 lijkt niet op de oudere GT215 (bijvoorbeeld GeForce GTS 350M) of G92b (bijvoorbeeld GeForce GTX 285M) GPU's. In vergelijking met de GF100 beschikken de kleinere GF104, GF106 en GF108 niet enkel over minder cores en geheugenbandbreedte, maar zijn ook qua ontwerp aangepast. In tegenstelling tot de GF100, die ontworpen is voor professionele toepassingen, zijn deze chips gericht op de consumentenmarkt. Ze beschikken over meer shaders (3x16 inplaats van 2x16), meer texture-eenheden (8 inplaats van 4) en SFU's per streaming multi-processor (SM). Omdat er nog steeds slechts 2 warp schedulers zijn (versus 3 shader groepen), gebruikt NVIDIA nu superscalar execution om het hoger aantal shaders per SM efficiënter te benutten. In theorie kunnen de shaders hierdoor efficiënter ingezet worden en word de prestaties per core verbeterd. Echter, in worst case scenario's kunnen de prestaties ook slechter uitvallen dan bij de GF100 (en zijn voorgangers). De ECC geheugenbeveiliging, die belangrijk is in professionele toepassingen, ontbreekt geheel en de FP64 hardware is verkleint (slechts 1/3 van de shaders kunnen overweg met FP64 berekeningen en bieden dan ook 1/12 van de FP32 prestaties). Door deze aanpassingen is het oppervlak van een SM maar met 25% gegroeid ondanks het hogere aantal shaders en grotere warp schedulers met superscalar mogelijkheden. Door het verschillende shader-ontwerp en de hogere kloksnelheid, kan het aantal cores niet rechtstreeks vergeleken worden met AMD cores uit de Radeon 5000-serie (bijvoorbeeld HD 5850).

Gedetailleerde informatie over de GF104-architectuur (en daarmee ook de GF106 en GF108) kan nagelezen worden in het desktop GTX 460-artikel op Anandtech.

Prestaties

De prestaties van de GTX 470M SLI-combinatie zou vergelijkbaar moeten zijn met de GTX 480M SLI door de hoge kloksnelheid van de GTX 470M videokaarten. Over het algemeen verschilt het voordeel van SLI per applicatie/game en driver-ondersteuning. De huidige SLI-driver van NVIDIA is beter dan de CrossFire-ondersteuning van AMD, wat tot relatief grotere prestatietoenames leid. Gemiddeld zijn 30% meer prestaties , vergeleken met een enkele GTX 470M, mogelijk op hoge resoluties en met anti-aliasing. Daarom zijn alle games van 2010, met uitzondering van Metro 2033, speelbaar op de hoogste detailinstellingen. Metro 2033 draait bijvoorbeeld in onze tests met een GTX 480M SLI-systeem op slechts 23 fps, een score die voor de GTX 470M SLI-combinatie vergelijkbaar zal zijn.

Eigenschappen

Een nieuwigheid van de GF104/106/108-chips is de ondersteuning voor Bitstream HD Audio (Blu-ray) output via HDMI. Net als de Radeon HD 5850, kan de GTX 470M Dolby True HD en DTS-HD bitstream zonder kwaliteitsverlies doorsturen naar een Hi-Fi receiver.

De GTX 470M biedt PureVideo HD-technologie voor video decodering aan. De ingebouwde Video Processor 4 (VP4) ondersteunt featureset C en dus kan de GPU MPEG-1, MPEG-2, MPEG-4 Part 2 (MPEG-4 ASP – bijv. DivX, XviD), VC-1/WMV9 en H.264 (VLD, IDCT, Motion Compensation en Deblocking) volledig decoderen. Het X500 testmodel kon de VC-1 gecodeerde "Elephants Dream"-video decoderen met een CPU belasting van 3-6% (volgens taakbeheer). De H.264 gecodeerde "Big Buck Bunny"-video werd afgespeeld met een 1-3% CPU belasting (beide zijn 1080p video's).

Verder kan de GPU twee 1080p streams tegelijkertijd decoderen (bijvoorbeeld voor Blu-ray Picture-in-Picture).

Middels CUDA, OpenCL en DirectCompute 2.1 ondersteuning kan de GeForce GTX 470M ook helpen bij generieke berekeningen. Zo kunnen de vele stream processoren samen video's aanzienlijk sneller encoderen dan een high-end CPU dat kan. Ook natuurkundige berekeningen kunnen door de GPU uitgevoerd worden dankzij PhysX (ondersteunt door bijvoorbeeld Mafia 2 of Metro 2033). SLI-systemen kunnen ook één van beide kaarten volledig inzetten voor PhysX-berekeningen.

Volgens NVIDIA is ook de 3D Vision ondersteuning op de GTX grafische kaarten nieuw. Hiermee kan de laptop 3D content (3D games, 3D webstreams, 3D afbeeldingen, 3D Blu-ray's) weergeven op een ingebouwd 3D-geschikt beeldscherm of een externe 3D-tv (enkel indien ondersteunt door de laptop fabrikant).

Volgens de geruchten is het energieverbruik van de GeForce GTX 470M ongeveer 75 Watt (TDP inclusief MXM-module en geheugen), wat vergelijkbaar is met de Mobility Radeon HD 5870. Het SLI-systeem heeft dan 2x 75Watt nodig en verbruikt daarmee aanzienlijk minder dan de 2x 100 Watt van de GTX 480M SLI. Zonder belasting wordt de chip geklokt op respectievelijk 50/100 MHz (chip/shader) in 2D en 200/400 MHz in 3D om zo energie te besparen.

Vergeleken met desktop grafische kaarten, is de GTX 470M SLI-combinatie vergelijkbaar met een GTS 450 SLI-combinatie, terwijl de desktop GTX 470 significant sneller is.
NVIDIA GeForce GTX 485M

High-end grafische kaart gebaseerd op een volledige GF104-chip en aanzienlijk sneller dan de 480M.

| | |
| --- | --- |
| GeForce GTX 400M Serie | |
| Codenaam | N11E-GT |
| Architectuur | Fermi |
| Pipelines | 576 - verenigd |
| Core-snelheid | 535 MHz |
| Shader-snelheid | 1070 MHz |
| Geheugensnelheid | 1250 MHz |
| Geheugenbusbreedte | 192 bit |
| Geheugentype | GDDR5 |
| Gedeeld geheugen | nee |
| API | DirectX 11, Shader 5.0 |
| technologie | 40 nm |
| Laptop Grootte | groot |
| Aangekondigde datum | 01.11.2010 |
Benchmarks
3DMark 11 - 3DM11 Performance Score