NVIDIA GeForce FX Go 5600/5650
De NVIDIA GeForce FX Go 5600 / 5650 voor notebooks werd als concurrent van ATI Mobility Radeon 9600 gelanceerd. Echter, de ATI kaart was beduidend sneller. Deze biedt multi-screen-support (een extra monitor kan aangesloten worden) alsmede DirectX 9 functies. De opvolger werd de verbeterde GeForce FX Go 5700.

De 5600 heeft ofwel 4x1 of 2x2 ontwerp (pixel- x vertex-shader), afhankelijk van enkelvoudige of dubbele textured pixels.
Specificaties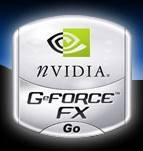 prestaties klasse: 4
reeks:

GeForce FX Go

codenaam:

NV31M

pijpleiding: 4 (2) pixel-pijpleidingen en 1 (2) vertex-pijpleidingen
snelheid: chip: 350 MHz, geheugen: 300 MHz
geheugen:

DDR

, maximum: 32MB, bus: 128 bit
directX: 9, Shader Model 2.0+
eigenschappen:

PowerMizer 4.0, VPE 3.0, 128-bit Color, nView Multi-Display, UltraShadow, Intellisample HCT, CineFX Engine 2.0

fabrikanten plaats: product page
gebruik: notebooks van middelgrote grootte en middelgroot gewicht
andere info:

130nm, AGP

8x, 6 pixelshader-

verrichtingen door klok-signaal
Benchmarks
Hier vindt u een lijst met benchmarkwaarden, die met deze videokaart kunnen worden bereikt. De waarden kunnen sterk wegens verschillende hardware afwijken (processor, geheugen).
3DMark01: 9100 punten
3DMark03: 1900 punten
type punten
| | |
| --- | --- |
| | 60 |
| | 140 |
| | 170 |
| | 200 |
| | 280 |
| | 280 |
| | 560 |
| | 674 |
| | 700 |
| | 800 |
| | 900 |
| | 900 |
| | 900 |
| | 1150 |
| | 1300 |
| | 1800 |
| | 1900 |
| | 2200 |
| | 2330 |
| | 2500 |
| | 2700 |
| | 2800 |
| | 3000 |
| ATI Mobility Radeon X1900 | 3460 |
| | 3800 |
| | 3900 |
| | 4000 |
| | 4690 |
| | 4700 |
| | 5000 |
| | 5214 |