Apple M1 Pro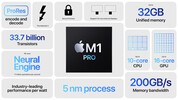 De Apple M1 Pro is een System on a Chip (SoC) van Apple dat is te vinden in de MacBook Pro 14 en 16-inch modellen van eind 2021. Het biedt alle 10 beschikbare cores van de chip, verdeeld in acht prestatie-kernen (P-cores met 600 - 3220 MHz) en twee energiezuinige cores (E-cores met 600 - 2064 MHz). Er is geen Turbo Boost voor afzonderlijke cores of korte burstperioden. De cores zijn vergelijkbaar met de cores in de Apple M1. Het instapmodel biedt slechts 8 cores.
De grote cores (codenaam Firestorm) hebben 192 KB instructie cache, 128 KB data cache en 24 MB gedeelde L2 cache (tegenover 12 MB in de M1). De vier efficiënte kernen (codenaam Icestorm) zijn een stuk kleiner en bieden slechts 128 KB instructie-cache, 64 KB data-cache en 4 MB gedeelde cache. CPU en GPU kunnen beide gebruik maken van de 24 MB SLC (System Level Cache). De efficiency cores (E cluster) klokken met 600 - 2064 MHz, de performance cores (P cluster) met 600 - 3228 MHz.
Het verenigd geheugen (16 of 32 GB LPDDR5-6400) naast de chip wordt verbonden door een 256 bit geheugencontroller (200 GB/s bandbreedte) en kan worden gebruikt door de GPU en CPU.
De geïntegreerde grafische kaart in de M1 Pro biedt alle 16 kernen.
Verder integreert de SoC een snelle 16 core neural engine, een secure enclave (bijvoorbeeld voor encryptie), een unified memory architectuur, Thunderbolt 4 controller, een ISP, en media de- en encoders (waaronder ProRes).
De M1 Pro is vervaardigd in 5 nm bij TSMC en bevat 33,7 miljard transistors. Het piekverbruik van de chip werd geadverteerd rond 30W voor CPU intensieve taken. In de Prime95 benchmark verbruikt de chip in onze tests (met een MBP16) 33,6W pakketvermogen en 31W voor het CPU-gedeelte. In rusttoestand rapporteert de SoC slechts 1W pakketvermogen.
Serie
Apple Apple M-Series

Serie: Apple M-Series

| | | | |
| --- | --- | --- | --- |
| Apple M2 Max | 2.42 - 3.7 GHz | 12 / 12 | 48 MB L3 |
| Apple M2 Pro | 2.42 - 3.5 GHz | 12 / 12 | 24 MB L3 |
| Apple M1 Max | 2.06 - 3.22 GHz | 10 / 10 | 48 MB L3 |
| Apple M2 Pro 10-Core | 2.42 - 3.7 GHz | 10 / 10 | 24 MB L3 |
| Apple M1 Pro « | 2.06 - 3.22 GHz | 10 / 10 | 24 MB L3 |
| Apple M1 Pro 8-Core | 2.06 - 3.22 GHz | 8 / 8 | 16 MB L3 |
| Apple M2 | 2.42 - 3.48 GHz | 8 / 8 | 8 MB L3 |
| Apple M1 | 2.06 - 3.22 GHz | 8 / 8 | 8 MB L3 |

Kloksnelheid
2064 - 3220 MHz
Level 1 Cache
2.9 MB
Level 2 Cache
28 MB
Level 3 Cache
24 MB
Aantal Cores / Threads
10 / 10
Aantal Transistoren
33700 miljoen
Productietechnologie
5 nm
Features
ARMv8 Instruction Set
GPU
Apple M1 Pro 16-Core GPU
64-Bit
64-Bit-ondersteuning
Architecture
ARM
Aankondigingsdatum
18-10-2021
Benchmarks
Cinebench R23 - Cinebench R23 Multi Core