Kort testrapport Toshiba Satellite Click 2 Pro P30W-B-104 Convertible
PCMark 7 Score

4369 punten
PCMark 8 Home Score Accelerated v2

2053 punten
PCMark 8 Creative Score Accelerated v2

1979 punten
PCMark 8 Work Score Accelerated v2

3146 punten

Help
Toshiba HG6 THNSNJ256GMCU
Sequential Write: 471MB/s
Access Time Write: 0.04ms
3DMark 11 Performance

770 punten
3DMark Ice Storm Standard Score

34025 punten
3DMark Cloud Gate Standard Score

3791 punten
3DMark Fire Strike Score

495 punten

Help
Geluidsniveau
Onbelast

29.6 / 31 / 31.5 dB (A)

Belasting

33.5 / 38.4 dB (A)




30 dB
stil

40 dB(A)
hoorbaar

50 dB(A)
luid

min:

, med:

, max:

Voltcraft sl-320 (15 cm afstand)
(±)
The average temperature for the upper side under maximal load is 38 °C / 100 F, compared to the average of 30.3 °C / 87 F for the devices in the class Convertible.
(-)
The maximum temperature on the upper side is 46.1 °C / 115 F, compared to the average of 35.3 °C / 96 F, ranging from 21.8 to 55.7 °C for the class Convertible.
(-)
The bottom heats up to a maximum of 47.2 °C / 117 F, compared to the average of 36.6 °C / 98 F
(+)
In idle usage, the average temperature for the upper side is 28.5 °C / 83 F, compared to the device average of 30.3 °C / 87 F.
(±)
The palmrests and touchpad can get very hot to the touch with a maximum of 38.7 °C / 101.7 F.
(-)
The average temperature of the palmrest area of similar devices was 28.5 °C / 83.3 F (-10.2 °C / -18.4 F).
Stroomgebruik
Uit / Standby

0.1 / 0.2 Watt

Inactief

4 / 8.9 / 9.4 Watt

Belasting

31 / 31.1 Watt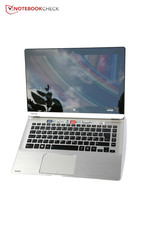 Dit is de verkorte versie van het originele artikel. Het volledige, Engelse testrapport vind je hier.
Stijlvol, slank en snel - heeft een convertible nog meer nodig om zowel testers als kopers te overtuigen? Toshiba's Click 2 Pro P30W-B-104 ziet er goed uit op veel vlakken maar maakt een ietwat onvolledige indruk in een aantal details. De keyboard-dock met zijn gecurvde lijnen en prominente touchpad springen in het oog, maar de ventilatoren en roosters van de luidspreker op de rugzijde van de tablet ontsieren het geheel wat.
De variëteit van interfaces is bovengemiddeld, maar de meerderheid van poorten op de tablet kan niet gebruikt worden als hij in de keyboard-dock zit. Daarnaast moeten alle kabels losgemaakt worden om hem in de dock te plaatsen. De connecties, ventilator-uitlaten en luidsprekers zouden eigenlijk aan de zijkanten van de tablet gepositioneerd kunnen worden; dit werkte bijvoorbeeld prima in Asus' Transformer Book T300LA...
De accurate kleurweergave van het scherm, het degelijke contrast en de toereikende helderheid zijn sterke punten, de batterijduur is doenbaar en de invoerapparatuur werkt nauwkeurig. Je zou wel niet al te veel hoop moeten vestigen op goede luidsprekers. De Satellite Click 2 Pro weet niet te overtuigen op dit vlak. Het toestel heeft echter twee webcams die wel prima foto's maken.
De beoordeling zou een paar percent hoger liggen als Toshiba wat meer denkwerk in de tablet had gestoken en als de houders van de dock niet zo onhandig waren. Toch krijgt het toestel een aanbeveling van ons dankzij zijn goede prestaties, uitstekende scherm en stijlvolle keyboard-dock; de koper zal dan wel moeten leren leven met de vermelde beperkingen.