Kort testrapport HP Pavilion 13-a000ng x360 Convertible
HP Pavilion 13-a000ng x360


HD Graphics 4400, 4030U, Seagate ST500LM000 Solid State Hybrid Drive

Lenovo Yoga 2 13


HD Graphics 4400, 4010U, WD Blue UltraSlim WD5000MPCK-22AWHT0

Toshiba Satellite W30Dt-A-100


Radeon HD 8180, A4-1200, WD Blue UltraSlim WD5000MPCK-22AWHT0

Lenovo Yoga 2 Pro


HD Graphics 4400, 4200U, Samsung SSD PM841 MZMTD128HAFV mSATA

Display
Display P3 Coverage

65.47

39.12

42.03

sRGB Coverage

96.23

57.91

63.31

AdobeRGB 1998 Coverage

67.68

40.13

43.42

Screen

43%

15%

45%

Brightness middle

168

Brightness

156

Brightness Distribution

88

Black Level *

0.39

Contrast

431

Colorchecker DeltaE2000 *

9.65

Greyscale DeltaE2000 *

10.03

Gamma

2.09 105%

2.5 88%

2.33 94%

2.44 90%

CCT

11308 57%

6771 96%

6993 93%

6461 101%

Color Space (Percent of AdobeRGB 1998)

62.1

36.7

40.49

Totaal Gemiddelde (Programma / Instellingen)
* ... kleiner is beter
PCMark 7 Score

3349 punten
PCMark 8 Home Score Accelerated v2

2179 punten
PCMark 8 Creative Score Accelerated v2

2224 punten
PCMark 8 Work Score Accelerated v2

3115 punten

Help
Seagate ST500LM000 Solid State Hybrid Drive
Overdrachtssnelheid Minimum: 46 MB/s

Overdrachtssnelheid Maximum: 112.2 MB/s

Overdrachtssnelheid Gemiddeld: 85.8 MB/s

Toegangstijd: 17.6 ms

Pieksnelheid: 149.7 MB/s

CPU-gebruik: 11.4 %

3DMark 11 Performance

812 punten
3DMark Ice Storm Standard Score

32613 punten
3DMark Cloud Gate Standard Score

3711 punten

Help
Geluidsniveau
Onbelast

33.5 / 33.7 / 33.7 dB (A)

Belasting

38.7 / 43.6 dB (A)




30 dB
stil

40 dB(A)
hoorbaar

50 dB(A)
luid

min:

, med:

, max:

Voltcraft sl- 320 (15 cm afstand)
(+)
The average temperature for the upper side under maximal load is 29.7 °C / 85 F, compared to the average of 30.3 °C / 87 F for the devices in the class Convertible.
(+)
The maximum temperature on the upper side is 34.1 °C / 93 F, compared to the average of 35.3 °C / 96 F, ranging from 21.8 to 55.7 °C for the class Convertible.
(+)
The bottom heats up to a maximum of 35.5 °C / 96 F, compared to the average of 36.6 °C / 98 F
(+)
In idle usage, the average temperature for the upper side is 25.3 °C / 78 F, compared to the device average of 30.3 °C / 87 F.
(+)
The palmrests and touchpad are cooler than skin temperature with a maximum of 29.2 °C / 84.6 F and are therefore cool to the touch.
(±)
The average temperature of the palmrest area of similar devices was 28.5 °C / 83.3 F (-0.7 °C / -1.3 F).
Stroomgebruik
Uit / Standby

0 / 0.2 Watt

Inactief

4 / 5.9 / 6.1 Watt

Belasting

26.1 / 29.7 Watt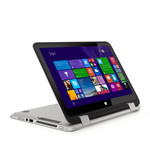 Dit is de verkorte versie van het originele artikel. Het volledige, Engelse testrapport vind je hier.
Tegenwoordig moeten fabrikanten blijkbaar nieuwe paden betreden om zich te kunnen onderscheiden in de immer voortschrijdende industrie. Terwijl het rond de millenniumwisseling allemaal om hogere kloksnelheden draaide, werd er de laatste paar jaren gefocust op het aantal rekenkernen en het verhogen van de efficiëntie van de verschillende systeemcomponenten. Vandaag moet een "laptop" meer zijn dan een conventionele notebook om te triomferen over de sterke competitie van premium business-toestellen, ultra-draagbare subnotebooks of handige tablets.
HP probeert nu om het vroegere succes van Lenovo's Yoga, dat inmiddels zelfs verder gegroeid is met de Yoga 2 13, van de middelste prijsklasse te evenaren. Helaas faalt deze poging door een aantal kleine punten van kritiek. Het scherm heeft erg onstabiele kijkhoeken en maakt gebruik van de tablet zo bijna onmogelijk. Bovendien leidt het reflecterende schermoppervlak af van alledaags office- en desktop-gebruik, wat zelfs verder in de hand wordt gewerkt door de occasioneel zichtbare touchscreen-matrix, de matige helderheid en het wazige beeld. Hoewel de andere onderdelen zoals de processor oerdegelijk zijn, is de eigenlijke veelzijdigheid, waarvoor HP de koper uiteraard een toeslag aanrekent, maar middelmatig geïmplementeerd.
Kopers die het toestel vooral willen gebruiken als een ongewone laptop in normale desktop-modus en slechts nu en dan de touch-features en het variabele scherm nodig hebben, zullen aan hun trekken komen met HP's convertible. Je zal echter compromissen moeten aanvaarden met betrekking tot de scherm- en/of beeldkwaliteit. Kopers die echt alle voordelen van een dergelijk veelzijdig systeem willen benutten, zouden het best opteren voor de 100 euro (~$127) duurdere Lenovo Yoga 2 13, vooral omwille van zijn superieure scherm.