Kort testrapport Asus Zenbook UX32LA-R3025H Ultrabook
Cinebench R11.5
CPU Single 64Bit (sorteer op waarde)
Asus UX32LA-R3025H


HD Graphics 4400, 4200U, SanDisk SD6SB1M128G1002

HP Spectre 13-h205eg x2


HD Graphics 4200, 4202Y, Samsung SSD PM841 MZMTD128HAFV mSATA

Asus UX32LN


GeForce 840M, 4200U, Kingston SVP200S37A256G

Lenovo IdeaPad U330p


HD Graphics 4400, 4200U, Seagate ST500LM000 Solid State Hybrid Drive

Apple MacBook Air 13 MD761D/B 2014-06


HD Graphics 5000, 4260U, Apple SSD SD0256F

Sony Vaio Pro 13 SVP-1321C5ER


HD Graphics 4400, 4500U, Toshiba HG5d THNSNH512GDNT

Lenovo G510-59416358


HD Graphics 4600, 4200M, Seagate Momentus Thin ST500LT012-1DG142

CPU Multi 64Bit (sorteer op waarde)
Asus UX32LA-R3025H


HD Graphics 4400, 4200U, SanDisk SD6SB1M128G1002

HP Spectre 13-h205eg x2


HD Graphics 4200, 4202Y, Samsung SSD PM841 MZMTD128HAFV mSATA

Asus UX32LN


GeForce 840M, 4200U, Kingston SVP200S37A256G

Lenovo IdeaPad U330p


HD Graphics 4400, 4200U, Seagate ST500LM000 Solid State Hybrid Drive

Apple MacBook Air 13 MD761D/B 2014-06


HD Graphics 5000, 4260U, Apple SSD SD0256F

Sony Vaio Pro 13 SVP-1321C5ER


HD Graphics 4400, 4500U, Toshiba HG5d THNSNH512GDNT

Lenovo G510-59416358


HD Graphics 4600, 4200M, Seagate Momentus Thin ST500LT012-1DG142
PCMark 7 Score

4654 punten
PCMark 8 Home Score Accelerated v2

2583 punten
PCMark 8 Creative Score Accelerated v2

2522 punten
PCMark 8 Work Score Accelerated v2

3618 punten

Help
PCMark 7 - Score (sorteer op waarde)
Asus UX32LA-R3025H


HD Graphics 4400, 4200U, SanDisk SD6SB1M128G1002

Asus UX32LN


GeForce 840M, 4200U, Kingston SVP200S37A256G

Lenovo IdeaPad U330p


HD Graphics 4400, 4200U, Seagate ST500LM000 Solid State Hybrid Drive

Lenovo IdeaPad U330p


HD Graphics 4400, 4200U, Seagate ST500LM000 Solid State Hybrid Drive

Sony Vaio Pro 13 SVP-1321C5ER


HD Graphics 4400, 4500U, Toshiba HG5d THNSNH512GDNT

Apple MacBook Air 13 MD761D/B 2014-06


HD Graphics 5000, 4260U, Apple SSD SD0256F
SanDisk SD6SB1M128G1002
Sequential Read: 509 MB/s
Sequential Write: 305.8 MB/s
3DMark 11 Performance

952 punten
3DMark Ice Storm Standard Score

42413 punten
3DMark Cloud Gate Standard Score

4346 punten
3DMark Fire Strike Score

622 punten

Help
Asus Zenbook UX32LA-R3025H


Intel Core i5-4200U; Intel HD Graphics 4400

Asus Zenbook UX32LN-R4053H


Intel Core i5-4200U; NVIDIA GeForce 840M

3DMark 11
1280x720 Performance GPU

850

3DMark
1280x720 Cloud Gate Standard Graphics

5671

Metro: Last Light
1366x768 High (DX11) AF:16x

9.9

Tomb Raider
1366x768 High Preset AA:FX AF:8x

14.5

Totaal Gemiddelde (Programma / Instellingen)
Geluidsniveau
Onbelast

29.2 / 29.2 / 31.2 dB (A)

Belasting

33.4 / 33.4 dB (A)




30 dB
stil

40 dB(A)
hoorbaar

50 dB(A)
luid

min:

, med:

, max:

Voltcraft sl-451 (15 cm afstand)
(+)
The average temperature for the upper side under maximal load is 31.5 °C / 89 F, compared to the average of 30.6 °C / 87 F for the devices in the class Subnotebook.
(+)
The maximum temperature on the upper side is 38.7 °C / 102 F, compared to the average of 35.7 °C / 96 F, ranging from 22 to 58.4 °C for the class Subnotebook.
(+)
The bottom heats up to a maximum of 36.5 °C / 98 F, compared to the average of 39.5 °C / 103 F
(+)
In idle usage, the average temperature for the upper side is 29.1 °C / 84 F, compared to the device average of 30.6 °C / 87 F.
(+)
The palmrests and touchpad are cooler than skin temperature with a maximum of 29.7 °C / 85.5 F and are therefore cool to the touch.
(±)
The average temperature of the palmrest area of similar devices was 28.4 °C / 83.1 F (-1.3 °C / -2.4 F).
Stroomgebruik
Uit / Standby

0 / 0.1 Watt

Inactief

3.3 / 6.4 / 8.2 Watt

Belasting

30.7 / 39.2 Watt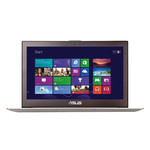 Dit is de verkorte versie van het originele artikel. Het volledige, Engelse testrapport vind je hier.
Kopers die op zoek zijn naar een ultrabook met goede batterijduur die niet alleen een goede bouwkwaliteit heeft, maar ook bovengemiddelde systeemprestaties, zullen absoluut tevreden zijn met dit toestel. De aluminium behuizing die uit één stuk bestaat, is zonder twijfel aantrekkelijk, zowel op het vlak van uiterlijk als hoe hij aanvoelt. De batterij van 50 Wh naast de snelle maar zuinige Intel-processor en SSD is perfect geschikt voor onderweg of gebruik zonder toegang tot netstroom, zonder dat de systeemprestaties gecompromitteerd worden.
We zouden de configuratie met Nvidia's dedicated grafische kaart aanbevelen voor gebruikers die het systeem aantrekkelijk vinden, maar ook graag eens een game spelen. Alle anderen zullen waarschijnlijk tevreden zijn met Intel's HD Graphics 4400 en het geteste model is op dit vlak een goede keuze. Alleen het scherm zou wat helderder mogen en een Full HD-resolutie mogen hebben. Niettemin zijn er momenteel weinig concurrenten van een even hoge kwaliteit voor 800 euro (~$1087). Al bij al is de Asus UX32LA-R3025H een bijna ideale, mobiele metgezel.
Kopers die bereid zijn wat meer te investeren voor een hoogwaardige metalen behuizing en een uitstekende bouwkwaliteit, kunnen zeker voor dit toestel gaan ofwel de 100 euro (~$136) goedkopere Lenovo IdeaPad U330p overwegen. Deze wordt echter niet standaard geleverd met een snelle SSD.