Kort testrapport Asus VivoBook S301LA-C1073H Ultrabook
Asus VivoBook S301LA-C1073H


HD Graphics 4400, 4200U, Hitachi Travelstar Z5K500 HTS545050A7E680

Lenovo IdeaPad U330p


HD Graphics 4400, 4200U, Seagate ST500LM000 Solid State Hybrid Drive

Asus VivoBook S300CA


HD Graphics 4000, 3217U, Hitachi Travelstar Z5K500 HTS545050A7E380

Samsung ATIV Book 9 Lite 905S3G-K01DE


Radeon HD 8250, A6-1450, Samsung SSD PM841 MZMTD128HAFV mSATA

Screen

-55%

-3%

1%

Brightness middle

191

Brightness

178

Brightness Distribution

84

Black Level *

0.27

Contrast

707

Colorchecker DeltaE2000 *

10.59

Greyscale DeltaE2000 *

11.58

Gamma

2.46 89%

2.43 91%

CCT

15172 43%

7823 83%

Color Space (Percent of AdobeRGB 1998)

40
* ... kleiner is beter
PCMark 7 - Score (sorteer op waarde)
Asus VivoBook S301LA-C1073H


HD Graphics 4400, 4200U, Hitachi Travelstar Z5K500 HTS545050A7E680

Lenovo IdeaPad U330p


HD Graphics 4400, 4200U, Seagate ST500LM000 Solid State Hybrid Drive

Lenovo IdeaPad U330p


HD Graphics 4400, 4200U, Seagate ST500LM000 Solid State Hybrid Drive

Asus VivoBook S300CA


HD Graphics 4000, 3217U, Hitachi Travelstar Z5K500 HTS545050A7E380

Samsung ATIV Book 9 Lite 905S3G-K01DE


Radeon HD 8250, A6-1450, Samsung SSD PM841 MZMTD128HAFV mSATA
PCMark 7 Score
2604 punten
PCMark 8 Home Score Accelerated v2
2057 punten
PCMark 8 Creative Score Accelerated v2
2029 punten
PCMark 8 Work Score Accelerated v2
2924 punten

Help
Asus VivoBook S301LA-C1073H


HD Graphics 4400, 4200U, Hitachi Travelstar Z5K500 HTS545050A7E680

Lenovo IdeaPad U330p


HD Graphics 4400, 4200U, Seagate ST500LM000 Solid State Hybrid Drive

Asus VivoBook S300CA


HD Graphics 4000, 3217U, Hitachi Travelstar Z5K500 HTS545050A7E380

Samsung ATIV Book 9 Lite 905S3G-K01DE


Radeon HD 8250, A6-1450, Samsung SSD PM841 MZMTD128HAFV mSATA

CrystalDiskMark 3.0

-26%

-27%

2196%

Write 4k

1.019

Read 4k

0.484

Write Seq

98.74

Read Seq

101.3
Hitachi Travelstar Z5K500 HTS545050A7E680
Overdrachtssnelheid Minimum: 3.6 MB/s
Overdrachtssnelheid Maximum: 100.5 MB/s
Overdrachtssnelheid Gemiddeld: 71.5 MB/s
3DMark 06 Standard
4471 punten
3DMark 11 Performance
751 punten
3DMark Ice Storm Standard Score
27756 punten
3DMark Cloud Gate Standard Score
3286 punten
3DMark Fire Strike Score
527 punten

Help
lage
gem.
hoge
ultra
GRID 2

(2013)

40
22.9
15.3
12.5
fps
Total War: Rome II

(2013)

29.7
22.5
16.4
fps
F1 2013

(2013)

35
22
18
12
fps
Geluidsniveau
Onbelast

30.6 / 32.7 / 32.7 dB (A)

HDD

33.1 dB (A)

Belasting

40.2 / 40.4 dB (A)




30 dB
stil

40 dB(A)
hoorbaar

50 dB(A)
luid

min:

, med:

, max:

Voltcraft sl-320 (15 cm afstand)
(+)
The average temperature for the upper side under maximal load is 31.5 °C / 89 F, compared to the average of 30.6 °C / 87 F for the devices in the class Subnotebook.
(+)
The maximum temperature on the upper side is 35.5 °C / 96 F, compared to the average of 35.7 °C / 96 F, ranging from 22 to 57 °C for the class Subnotebook.
(+)
The bottom heats up to a maximum of 36.1 °C / 97 F, compared to the average of 39.5 °C / 103 F
(+)
In idle usage, the average temperature for the upper side is 26.6 °C / 80 F, compared to the device average of 30.6 °C / 87 F.
(+)
The palmrests and touchpad are cooler than skin temperature with a maximum of 30 °C / 86 F and are therefore cool to the touch.
(±)
The average temperature of the palmrest area of similar devices was 28.4 °C / 83.1 F (-1.6 °C / -2.9 F).
Stroomgebruik
Uit / Standby

0 / 0.2 Watt

Inactief

4.4 / 6.8 / 7 Watt

Belasting

30 / 28.3 Watt




Key: min:

, med:

, max:

Voltcraft VC 940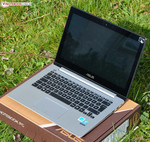 "Stijl en functie in perfectie" - dit is wat Asus belooft voor de VivoBook S301LA op hun website. De laptop heeft inderdaad veel pluspunten. De behuizing is van hoge kwaliteit, maar de invoerapparaten, inclusief het touchpad, stellen ons teleur. De notebook verliest op deze manier punten op meerdere cruciale vlakken.
Het beeldscherm is een zeer zwak punt. Het weerspiegelende paneel heeft een te lage helderheid voor een mobiele subnotebook. Daarnaast zijn de kleuren ongebalanceerd en de kijkhoeken te beperkt.
De prestaties van de Asus VivoBook vallen in de hogere middenklasse en heeft niet veel te vrezen voor de concurrentie. Een SSD zou de machine echt snel maken. We waren vooral te spreken over de lage temperaturen tijdens de stresstest.
Al met al biedt Asus een gebalanceerde Ultrabook voor €650. Als je kan leven met het donkere beeldscherm, heeft de VivoBook veel te bieden. Mocht je op zoek zijn naar absolute topprestaties, zou je eens moeten kijken naar de Samsung ATIV Book 9 Lite. De Lenovo IdeaPad U330p is beschikbaar voor ongeveer €680 en biedt zowel een beter beeldscherm als een langere batterijlevensduur. De IdeaPad heeft ook een geïntegreerde SSD cache.