Kort testrapport Asus C200MA-KX003 Chromebook
Asus C200MA-KX003
Mozilla Kraken 1.1
Total Score *

4482

Octane V2
Total Score

7321




7161



Browsermark
2.1

1988
* ... kleiner is beter
(±)
The average temperature for the upper side under maximal load is 32 °C / 90 F, compared to the average of 29.8 °C / 86 F for the devices in the class Netbook.
(+)
The maximum temperature on the upper side is 36.1 °C / 97 F, compared to the average of 33.1 °C / 92 F, ranging from 21.6 to 53.2 °C for the class Netbook.
(+)
The bottom heats up to a maximum of 34.3 °C / 94 F, compared to the average of 36.6 °C / 98 F
(+)
In idle usage, the average temperature for the upper side is 26 °C / 79 F, compared to the device average of 29.8 °C / 86 F.
(+)
The palmrests and touchpad are cooler than skin temperature with a maximum of 28.8 °C / 83.8 F and are therefore cool to the touch.
(±)
The average temperature of the palmrest area of similar devices was 29.3 °C / 84.7 F (+0.5 °C / 0.9 F).
Stroomgebruik
Uit / Standby

0 / 0 Watt

Inactief

2.2 / 3.6 / 0 Watt

Belasting

/ 9 Watt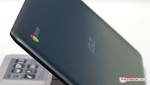 De ASUS C200 is een Chromebook en binnen de daarbij behorende grenzen heeft ASUS uitstekend werk afgeleverd. Dit is een simpele, efficiënte notebook met een goede bouwkwaliteit, die de WiFi snelheden en standaarden voor een goede "cloud experience" ondersteunt. In vergelijking met zijn directe concurrenten is het een middenklasse presteerder en dat is een bottleneck als je een Chromebook overweegt voor web-based werken. Het scherm is ook niet echt van topkwaliteit, maar dit past bij de prijsklasse. Een optie voor een Full HD IPS paneel zou welkom zijn.
De Acer C720 Chromebook is de nummer 1 concurrent van de ASUS C200 en hij levert meer prestaties voor minder geld. Wel geven wij voor veel typewerk de voorkeur aan het toetsenbord en touchpad van de ASUS C200. Bovendien heeft de Acer C720 geen ondersteuning voor AC-WiFi en de batterijduur is korter dan die van de ASUS C200.
De C200 is stil, heeft goede luidsprekers en wordt geleverd met 100 GB gratis online opslag. Weliswaar is dat beperkt tot 2 jaar, maar voor $229 (VS prijs, moment van schrijven) is het een koopje. Zeker als je ook de belofte voor ondersteuning van bepaalde Android applicaties, regelmatige updates, de grote online gemeenschap en het volwassen geworden applicatie ecosysteem meeneemt.
Een PC vervanger moet geschikt zijn voor meer dan 100% van je dagelijkse gebruiksscenario's en helaas zal de ASUS C200 dat voor de meeste mensen niet zijn. Neem je genoegen met 95% en ben je bereid voor bepaald werk achter een volwaardige PC of notebook te kruipen, dan kan de ASUS C200, met zijn lange batterijduur, voor jou best wel eens de ideale compacte notebook zijn.