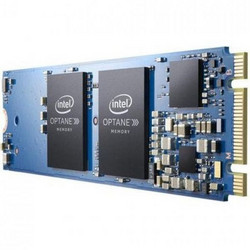 Dit is de verkorte versie van het originele artikel. Het volledige, Engelse testrapport vind je hier.
We denken dat Intel's Optane Memory nog niet volledig klaar is voor de consumentenmarkt. Hoewel de erg hoge 'random' lees-/en schrijfsnelheden een voordeel kunnen zijn in Windows, zijn de verschillen ten opzichte van de normale SATA- of zelfs PCIe-SSD's irrelevant voor de meeste consumenten. Professionele gebruikers (die misschien wel de Intel Optane P4800X verkiezen) zullen in werkelijkheid waarschijnlijk toch eerder voor een normale NVMe-SSD kiezen door de hoge prijs van Optane Memory - al geldt dit misschien niet voor erg specifieke noden.
Het gebruik van de chip als cachegeheugen in combinatie met een klassieke harde schijf is in principe een goed idee, maar waarschijnlijk alleen geschikt voor luie gebruikers die ondanks het moderne Kaby Lake-systeem alleen een harde schijf gebruiken en geen zin hebben om al hun data over te zetten op een - waarschijnlijk vergelijkbaar geprijsde - SSD. Het aantal gebruikers dat hieraan voldoet is echter zeer, zeer klein. We hebben ook twijfels bij het gebruik van Optane Memory in notebooks of compacte systemen, aangezien equivalente PCIe-SSD's slechts iets duurder zijn.

AS SSD
Copy Game MB/s
Eurocom Tornado F5


GeForce GTX 1070 Mobile, i7-7700K, Samsung SSD 960 Pro 512 GB m.2

i7-7740X Asus X299 Prime


GeForce GTX 1080 Ti, i7-7740X, Intel Optane 32 GB MEMPEK1W032GA

1107

(409min - 1107max) MB/s

∼84%

Samsung 960 Pro 1TB


Titan X Pascal, E5-2680 v4, Samsung SSD 960 Pro 1TB m.2 NVMe

Nvidia GeForce GTX 1080 Ti Founders Edition Asus Crosshair VI Hero


GeForce GTX 1080 Ti, R7 1800X, Intel SSD 600p SSDPEKKW512G7

MSI GP62 7REX-1045US


GeForce GTX 1050 Ti Mobile, i7-7700HQ, Toshiba NVMe THNSN5128GP

Copy Program MB/s
i7-7740X Asus X299 Prime


GeForce GTX 1080 Ti, i7-7740X, Intel Optane 32 GB MEMPEK1W032GA

873

(360min - 873max) MB/s

∼100%

Eurocom Tornado F5


GeForce GTX 1070 Mobile, i7-7700K, Samsung SSD 960 Pro 512 GB m.2

Nvidia GeForce GTX 1080 Ti Founders Edition Asus Crosshair VI Hero


GeForce GTX 1080 Ti, R7 1800X, Intel SSD 600p SSDPEKKW512G7

Samsung 960 Pro 1TB


Titan X Pascal, E5-2680 v4, Samsung SSD 960 Pro 1TB m.2 NVMe

MSI GP62 7REX-1045US


GeForce GTX 1050 Ti Mobile, i7-7700HQ, Toshiba NVMe THNSN5128GP

Copy ISO MB/s
Eurocom Tornado F5


GeForce GTX 1070 Mobile, i7-7700K, Samsung SSD 960 Pro 512 GB m.2

Samsung 960 Pro 1TB


Titan X Pascal, E5-2680 v4, Samsung SSD 960 Pro 1TB m.2 NVMe

i7-7740X Asus X299 Prime


GeForce GTX 1080 Ti, i7-7740X, Intel Optane 32 GB MEMPEK1W032GA

MSI GP62 7REX-1045US


GeForce GTX 1050 Ti Mobile, i7-7700HQ, Toshiba NVMe THNSN5128GP

Nvidia GeForce GTX 1080 Ti Founders Edition Asus Crosshair VI Hero


GeForce GTX 1080 Ti, R7 1800X, Intel SSD 600p SSDPEKKW512G7

Score Total
Samsung 960 Pro 1TB


Titan X Pascal, E5-2680 v4, Samsung SSD 960 Pro 1TB m.2 NVMe

Saelic Veni G422 G7TPK4


GeForce GTX 1050 Ti Mobile, i7-7700HQ, Samsung PM961 NVMe MZVLW512HMJP

Eurocom Tornado F5


GeForce GTX 1070 Mobile, i7-7700K, Samsung SSD 960 Pro 512 GB m.2

i7-7740X Asus X299 Prime


GeForce GTX 1080 Ti, i7-7740X, Intel Optane 32 GB MEMPEK1W032GA

MSI GP62 7REX-1045US


GeForce GTX 1050 Ti Mobile, i7-7700HQ, Toshiba NVMe THNSN5128GP

Nvidia GeForce GTX 1080 Ti Founders Edition Asus Crosshair VI Hero


GeForce GTX 1080 Ti, R7 1800X, Intel SSD 600p SSDPEKKW512G7

Score Write
Eurocom Tornado F5


GeForce GTX 1070 Mobile, i7-7700K, Samsung SSD 960 Pro 512 GB m.2

Saelic Veni G422 G7TPK4


GeForce GTX 1050 Ti Mobile, i7-7700HQ, Samsung PM961 NVMe MZVLW512HMJP

Samsung 960 Pro 1TB


Titan X Pascal, E5-2680 v4, Samsung SSD 960 Pro 1TB m.2 NVMe

MSI GP62 7REX-1045US


GeForce GTX 1050 Ti Mobile, i7-7700HQ, Toshiba NVMe THNSN5128GP

Nvidia GeForce GTX 1080 Ti Founders Edition Asus Crosshair VI Hero


GeForce GTX 1080 Ti, R7 1800X, Intel SSD 600p SSDPEKKW512G7

i7-7740X Asus X299 Prime


GeForce GTX 1080 Ti, i7-7740X, Intel Optane 32 GB MEMPEK1W032GA

Score Read
Samsung 960 Pro 1TB


Titan X Pascal, E5-2680 v4, Samsung SSD 960 Pro 1TB m.2 NVMe

Saelic Veni G422 G7TPK4


GeForce GTX 1050 Ti Mobile, i7-7700HQ, Samsung PM961 NVMe MZVLW512HMJP

i7-7740X Asus X299 Prime


GeForce GTX 1080 Ti, i7-7740X, Intel Optane 32 GB MEMPEK1W032GA

Eurocom Tornado F5


GeForce GTX 1070 Mobile, i7-7700K, Samsung SSD 960 Pro 512 GB m.2

MSI GP62 7REX-1045US


GeForce GTX 1050 Ti Mobile, i7-7700HQ, Toshiba NVMe THNSN5128GP

Nvidia GeForce GTX 1080 Ti Founders Edition Asus Crosshair VI Hero


GeForce GTX 1080 Ti, R7 1800X, Intel SSD 600p SSDPEKKW512G7

Access Time Write
Samsung 960 Pro 1TB


Titan X Pascal, E5-2680 v4, Samsung SSD 960 Pro 1TB m.2 NVMe

Nvidia GeForce GTX 1080 Ti Founders Edition Asus Crosshair VI Hero


GeForce GTX 1080 Ti, R7 1800X, Intel SSD 600p SSDPEKKW512G7

MSI GP62 7REX-1045US


GeForce GTX 1050 Ti Mobile, i7-7700HQ, Toshiba NVMe THNSN5128GP

Saelic Veni G422 G7TPK4


GeForce GTX 1050 Ti Mobile, i7-7700HQ, Samsung PM961 NVMe MZVLW512HMJP

Eurocom Tornado F5


GeForce GTX 1070 Mobile, i7-7700K, Samsung SSD 960 Pro 512 GB m.2

i7-7740X Asus X299 Prime


GeForce GTX 1080 Ti, i7-7740X, Intel Optane 32 GB MEMPEK1W032GA

Access Time Read
MSI GP62 7REX-1045US


GeForce GTX 1050 Ti Mobile, i7-7700HQ, Toshiba NVMe THNSN5128GP

Nvidia GeForce GTX 1080 Ti Founders Edition Asus Crosshair VI Hero


GeForce GTX 1080 Ti, R7 1800X, Intel SSD 600p SSDPEKKW512G7

Samsung 960 Pro 1TB


Titan X Pascal, E5-2680 v4, Samsung SSD 960 Pro 1TB m.2 NVMe

Saelic Veni G422 G7TPK4


GeForce GTX 1050 Ti Mobile, i7-7700HQ, Samsung PM961 NVMe MZVLW512HMJP

Eurocom Tornado F5


GeForce GTX 1070 Mobile, i7-7700K, Samsung SSD 960 Pro 512 GB m.2

i7-7740X Asus X299 Prime


GeForce GTX 1080 Ti, i7-7740X, Intel Optane 32 GB MEMPEK1W032GA

4K-64 Write
Eurocom Tornado F5


GeForce GTX 1070 Mobile, i7-7700K, Samsung SSD 960 Pro 512 GB m.2

Saelic Veni G422 G7TPK4


GeForce GTX 1050 Ti Mobile, i7-7700HQ, Samsung PM961 NVMe MZVLW512HMJP

Samsung 960 Pro 1TB


Titan X Pascal, E5-2680 v4, Samsung SSD 960 Pro 1TB m.2 NVMe

Nvidia GeForce GTX 1080 Ti Founders Edition Asus Crosshair VI Hero


GeForce GTX 1080 Ti, R7 1800X, Intel SSD 600p SSDPEKKW512G7

MSI GP62 7REX-1045US


GeForce GTX 1050 Ti Mobile, i7-7700HQ, Toshiba NVMe THNSN5128GP

i7-7740X Asus X299 Prime


GeForce GTX 1080 Ti, i7-7740X, Intel Optane 32 GB MEMPEK1W032GA

4K-64 Read
Samsung 960 Pro 1TB


Titan X Pascal, E5-2680 v4, Samsung SSD 960 Pro 1TB m.2 NVMe

Saelic Veni G422 G7TPK4


GeForce GTX 1050 Ti Mobile, i7-7700HQ, Samsung PM961 NVMe MZVLW512HMJP

i7-7740X Asus X299 Prime


GeForce GTX 1080 Ti, i7-7740X, Intel Optane 32 GB MEMPEK1W032GA

Eurocom Tornado F5


GeForce GTX 1070 Mobile, i7-7700K, Samsung SSD 960 Pro 512 GB m.2

MSI GP62 7REX-1045US


GeForce GTX 1050 Ti Mobile, i7-7700HQ, Toshiba NVMe THNSN5128GP

Nvidia GeForce GTX 1080 Ti Founders Edition Asus Crosshair VI Hero


GeForce GTX 1080 Ti, R7 1800X, Intel SSD 600p SSDPEKKW512G7

4K Write
i7-7740X Asus X299 Prime


GeForce GTX 1080 Ti, i7-7740X, Intel Optane 32 GB MEMPEK1W032GA

Eurocom Tornado F5


GeForce GTX 1070 Mobile, i7-7700K, Samsung SSD 960 Pro 512 GB m.2

Saelic Veni G422 G7TPK4


GeForce GTX 1050 Ti Mobile, i7-7700HQ, Samsung PM961 NVMe MZVLW512HMJP

MSI GP62 7REX-1045US


GeForce GTX 1050 Ti Mobile, i7-7700HQ, Toshiba NVMe THNSN5128GP

Nvidia GeForce GTX 1080 Ti Founders Edition Asus Crosshair VI Hero


GeForce GTX 1080 Ti, R7 1800X, Intel SSD 600p SSDPEKKW512G7

Samsung 960 Pro 1TB


Titan X Pascal, E5-2680 v4, Samsung SSD 960 Pro 1TB m.2 NVMe

4K Read
i7-7740X Asus X299 Prime


GeForce GTX 1080 Ti, i7-7740X, Intel Optane 32 GB MEMPEK1W032GA

Saelic Veni G422 G7TPK4


GeForce GTX 1050 Ti Mobile, i7-7700HQ, Samsung PM961 NVMe MZVLW512HMJP

Eurocom Tornado F5


GeForce GTX 1070 Mobile, i7-7700K, Samsung SSD 960 Pro 512 GB m.2

MSI GP62 7REX-1045US


GeForce GTX 1050 Ti Mobile, i7-7700HQ, Toshiba NVMe THNSN5128GP

Samsung 960 Pro 1TB


Titan X Pascal, E5-2680 v4, Samsung SSD 960 Pro 1TB m.2 NVMe

Nvidia GeForce GTX 1080 Ti Founders Edition Asus Crosshair VI Hero


GeForce GTX 1080 Ti, R7 1800X, Intel SSD 600p SSDPEKKW512G7

Seq Write
Samsung 960 Pro 1TB


Titan X Pascal, E5-2680 v4, Samsung SSD 960 Pro 1TB m.2 NVMe

Eurocom Tornado F5


GeForce GTX 1070 Mobile, i7-7700K, Samsung SSD 960 Pro 512 GB m.2

Saelic Veni G422 G7TPK4


GeForce GTX 1050 Ti Mobile, i7-7700HQ, Samsung PM961 NVMe MZVLW512HMJP

MSI GP62 7REX-1045US


GeForce GTX 1050 Ti Mobile, i7-7700HQ, Toshiba NVMe THNSN5128GP

Nvidia GeForce GTX 1080 Ti Founders Edition Asus Crosshair VI Hero


GeForce GTX 1080 Ti, R7 1800X, Intel SSD 600p SSDPEKKW512G7

i7-7740X Asus X299 Prime


GeForce GTX 1080 Ti, i7-7740X, Intel Optane 32 GB MEMPEK1W032GA

Seq Read
Eurocom Tornado F5


GeForce GTX 1070 Mobile, i7-7700K, Samsung SSD 960 Pro 512 GB m.2

Samsung 960 Pro 1TB


Titan X Pascal, E5-2680 v4, Samsung SSD 960 Pro 1TB m.2 NVMe

Saelic Veni G422 G7TPK4


GeForce GTX 1050 Ti Mobile, i7-7700HQ, Samsung PM961 NVMe MZVLW512HMJP

MSI GP62 7REX-1045US


GeForce GTX 1050 Ti Mobile, i7-7700HQ, Toshiba NVMe THNSN5128GP

Nvidia GeForce GTX 1080 Ti Founders Edition Asus Crosshair VI Hero


GeForce GTX 1080 Ti, R7 1800X, Intel SSD 600p SSDPEKKW512G7

i7-7740X Asus X299 Prime


GeForce GTX 1080 Ti, i7-7740X, Intel Optane 32 GB MEMPEK1W032GA
CrystalDiskMark 3.0
Write 4k QD32
Eurocom Tornado F5


GeForce GTX 1070 Mobile, i7-7700K, Samsung SSD 960 Pro 512 GB m.2

Saelic Veni G422 G7TPK4


GeForce GTX 1050 Ti Mobile, i7-7700HQ, Samsung PM961 NVMe MZVLW512HMJP

Samsung 960 Pro 1TB


Titan X Pascal, E5-2680 v4, Samsung SSD 960 Pro 1TB m.2 NVMe

i7-7740X Asus X299 Prime


GeForce GTX 1080 Ti, i7-7740X, Intel Optane 32 GB MEMPEK1W032GA

Nvidia GeForce GTX 1080 Ti Founders Edition Asus Crosshair VI Hero


GeForce GTX 1080 Ti, R7 1800X, Intel SSD 600p SSDPEKKW512G7

Read 4k QD32
i7-7740X Asus X299 Prime


GeForce GTX 1080 Ti, i7-7740X, Intel Optane 32 GB MEMPEK1W032GA

Eurocom Tornado F5


GeForce GTX 1070 Mobile, i7-7700K, Samsung SSD 960 Pro 512 GB m.2

Saelic Veni G422 G7TPK4


GeForce GTX 1050 Ti Mobile, i7-7700HQ, Samsung PM961 NVMe MZVLW512HMJP

Samsung 960 Pro 1TB


Titan X Pascal, E5-2680 v4, Samsung SSD 960 Pro 1TB m.2 NVMe

Nvidia GeForce GTX 1080 Ti Founders Edition Asus Crosshair VI Hero


GeForce GTX 1080 Ti, R7 1800X, Intel SSD 600p SSDPEKKW512G7

Write 4k
Eurocom Tornado F5


GeForce GTX 1070 Mobile, i7-7700K, Samsung SSD 960 Pro 512 GB m.2

i7-7740X Asus X299 Prime


GeForce GTX 1080 Ti, i7-7740X, Intel Optane 32 GB MEMPEK1W032GA

Saelic Veni G422 G7TPK4


GeForce GTX 1050 Ti Mobile, i7-7700HQ, Samsung PM961 NVMe MZVLW512HMJP

Nvidia GeForce GTX 1080 Ti Founders Edition Asus Crosshair VI Hero


GeForce GTX 1080 Ti, R7 1800X, Intel SSD 600p SSDPEKKW512G7

Samsung 960 Pro 1TB


Titan X Pascal, E5-2680 v4, Samsung SSD 960 Pro 1TB m.2 NVMe

Read 4k
i7-7740X Asus X299 Prime


GeForce GTX 1080 Ti, i7-7740X, Intel Optane 32 GB MEMPEK1W032GA

Saelic Veni G422 G7TPK4


GeForce GTX 1050 Ti Mobile, i7-7700HQ, Samsung PM961 NVMe MZVLW512HMJP

Eurocom Tornado F5


GeForce GTX 1070 Mobile, i7-7700K, Samsung SSD 960 Pro 512 GB m.2

Samsung 960 Pro 1TB


Titan X Pascal, E5-2680 v4, Samsung SSD 960 Pro 1TB m.2 NVMe

Nvidia GeForce GTX 1080 Ti Founders Edition Asus Crosshair VI Hero


GeForce GTX 1080 Ti, R7 1800X, Intel SSD 600p SSDPEKKW512G7

Write 512
Samsung 960 Pro 1TB


Titan X Pascal, E5-2680 v4, Samsung SSD 960 Pro 1TB m.2 NVMe

Saelic Veni G422 G7TPK4


GeForce GTX 1050 Ti Mobile, i7-7700HQ, Samsung PM961 NVMe MZVLW512HMJP

Eurocom Tornado F5


GeForce GTX 1070 Mobile, i7-7700K, Samsung SSD 960 Pro 512 GB m.2

Nvidia GeForce GTX 1080 Ti Founders Edition Asus Crosshair VI Hero


GeForce GTX 1080 Ti, R7 1800X, Intel SSD 600p SSDPEKKW512G7

i7-7740X Asus X299 Prime


GeForce GTX 1080 Ti, i7-7740X, Intel Optane 32 GB MEMPEK1W032GA

Read 512
i7-7740X Asus X299 Prime


GeForce GTX 1080 Ti, i7-7740X, Intel Optane 32 GB MEMPEK1W032GA

Samsung 960 Pro 1TB


Titan X Pascal, E5-2680 v4, Samsung SSD 960 Pro 1TB m.2 NVMe

Saelic Veni G422 G7TPK4


GeForce GTX 1050 Ti Mobile, i7-7700HQ, Samsung PM961 NVMe MZVLW512HMJP

Nvidia GeForce GTX 1080 Ti Founders Edition Asus Crosshair VI Hero


GeForce GTX 1080 Ti, R7 1800X, Intel SSD 600p SSDPEKKW512G7

Eurocom Tornado F5


GeForce GTX 1070 Mobile, i7-7700K, Samsung SSD 960 Pro 512 GB m.2

Write Seq
Samsung 960 Pro 1TB


Titan X Pascal, E5-2680 v4, Samsung SSD 960 Pro 1TB m.2 NVMe

Eurocom Tornado F5


GeForce GTX 1070 Mobile, i7-7700K, Samsung SSD 960 Pro 512 GB m.2

Saelic Veni G422 G7TPK4


GeForce GTX 1050 Ti Mobile, i7-7700HQ, Samsung PM961 NVMe MZVLW512HMJP

Nvidia GeForce GTX 1080 Ti Founders Edition Asus Crosshair VI Hero


GeForce GTX 1080 Ti, R7 1800X, Intel SSD 600p SSDPEKKW512G7

i7-7740X Asus X299 Prime


GeForce GTX 1080 Ti, i7-7740X, Intel Optane 32 GB MEMPEK1W032GA

Read Seq
Samsung 960 Pro 1TB


Titan X Pascal, E5-2680 v4, Samsung SSD 960 Pro 1TB m.2 NVMe

Eurocom Tornado F5


GeForce GTX 1070 Mobile, i7-7700K, Samsung SSD 960 Pro 512 GB m.2

i7-7740X Asus X299 Prime


GeForce GTX 1080 Ti, i7-7740X, Intel Optane 32 GB MEMPEK1W032GA

Saelic Veni G422 G7TPK4


GeForce GTX 1050 Ti Mobile, i7-7700HQ, Samsung PM961 NVMe MZVLW512HMJP

Nvidia GeForce GTX 1080 Ti Founders Edition Asus Crosshair VI Hero


GeForce GTX 1080 Ti, R7 1800X, Intel SSD 600p SSDPEKKW512G7
CrystalDiskMark 5.2 / 6
Write 4K
i7-7740X Asus X299 Prime


GeForce GTX 1080 Ti, i7-7740X, Intel Optane 32 GB MEMPEK1W032GA

MSI GP62 7REX-1045US


GeForce GTX 1050 Ti Mobile, i7-7700HQ, Toshiba NVMe THNSN5128GP

Nvidia GeForce GTX 1080 Ti Founders Edition Asus Crosshair VI Hero


GeForce GTX 1080 Ti, R7 1800X, Intel SSD 600p SSDPEKKW512G7

Read 4K
i7-7740X Asus X299 Prime


GeForce GTX 1080 Ti, i7-7740X, Intel Optane 32 GB MEMPEK1W032GA

MSI GP62 7REX-1045US


GeForce GTX 1050 Ti Mobile, i7-7700HQ, Toshiba NVMe THNSN5128GP

Nvidia GeForce GTX 1080 Ti Founders Edition Asus Crosshair VI Hero


GeForce GTX 1080 Ti, R7 1800X, Intel SSD 600p SSDPEKKW512G7

Write Seq
MSI GP62 7REX-1045US


GeForce GTX 1050 Ti Mobile, i7-7700HQ, Toshiba NVMe THNSN5128GP

Nvidia GeForce GTX 1080 Ti Founders Edition Asus Crosshair VI Hero


GeForce GTX 1080 Ti, R7 1800X, Intel SSD 600p SSDPEKKW512G7

i7-7740X Asus X299 Prime


GeForce GTX 1080 Ti, i7-7740X, Intel Optane 32 GB MEMPEK1W032GA

Read Seq
MSI GP62 7REX-1045US


GeForce GTX 1050 Ti Mobile, i7-7700HQ, Toshiba NVMe THNSN5128GP

i7-7740X Asus X299 Prime


GeForce GTX 1080 Ti, i7-7740X, Intel Optane 32 GB MEMPEK1W032GA

Nvidia GeForce GTX 1080 Ti Founders Edition Asus Crosshair VI Hero


GeForce GTX 1080 Ti, R7 1800X, Intel SSD 600p SSDPEKKW512G7

Write 4K Q32T1
MSI GP62 7REX-1045US


GeForce GTX 1050 Ti Mobile, i7-7700HQ, Toshiba NVMe THNSN5128GP

i7-7740X Asus X299 Prime


GeForce GTX 1080 Ti, i7-7740X, Intel Optane 32 GB MEMPEK1W032GA

Nvidia GeForce GTX 1080 Ti Founders Edition Asus Crosshair VI Hero


GeForce GTX 1080 Ti, R7 1800X, Intel SSD 600p SSDPEKKW512G7

Read 4K Q32T1
i7-7740X Asus X299 Prime


GeForce GTX 1080 Ti, i7-7740X, Intel Optane 32 GB MEMPEK1W032GA

MSI GP62 7REX-1045US


GeForce GTX 1050 Ti Mobile, i7-7700HQ, Toshiba NVMe THNSN5128GP

Nvidia GeForce GTX 1080 Ti Founders Edition Asus Crosshair VI Hero


GeForce GTX 1080 Ti, R7 1800X, Intel SSD 600p SSDPEKKW512G7

Write Seq Q32T1
MSI GP62 7REX-1045US


GeForce GTX 1050 Ti Mobile, i7-7700HQ, Toshiba NVMe THNSN5128GP

Nvidia GeForce GTX 1080 Ti Founders Edition Asus Crosshair VI Hero


GeForce GTX 1080 Ti, R7 1800X, Intel SSD 600p SSDPEKKW512G7

i7-7740X Asus X299 Prime


GeForce GTX 1080 Ti, i7-7740X, Intel Optane 32 GB MEMPEK1W032GA

Read Seq Q32T1
MSI GP62 7REX-1045US


GeForce GTX 1050 Ti Mobile, i7-7700HQ, Toshiba NVMe THNSN5128GP

Nvidia GeForce GTX 1080 Ti Founders Edition Asus Crosshair VI Hero


GeForce GTX 1080 Ti, R7 1800X, Intel SSD 600p SSDPEKKW512G7

i7-7740X Asus X299 Prime


GeForce GTX 1080 Ti, i7-7740X, Intel Optane 32 GB MEMPEK1W032GA
PCMark 8
Storage Score v2
Eurocom Tornado F5


GeForce GTX 1070 Mobile, i7-7700K, Samsung SSD 960 Pro 512 GB m.2

Samsung 960 Pro 1TB


Titan X Pascal, E5-2680 v4, Samsung SSD 960 Pro 1TB m.2 NVMe

i7-7740X Asus X299 Prime


GeForce GTX 1080 Ti, i7-7740X, Intel Optane 32 GB MEMPEK1W032GA

MSI GP62 7REX-1045US


GeForce GTX 1050 Ti Mobile, i7-7700HQ, Toshiba NVMe THNSN5128GP

Nvidia GeForce GTX 1080 Ti Founders Edition Asus Crosshair VI Hero


GeForce GTX 1080 Ti, R7 1800X, Intel SSD 600p SSDPEKKW512G7

Work Score Accelerated v2
Eurocom Tornado F5


GeForce GTX 1070 Mobile, i7-7700K, Samsung SSD 960 Pro 512 GB m.2

MSI GP62 7REX-1045US


GeForce GTX 1050 Ti Mobile, i7-7700HQ, Toshiba NVMe THNSN5128GP

Creative Score Accelerated v2
Eurocom Tornado F5


GeForce GTX 1070 Mobile, i7-7700K, Samsung SSD 960 Pro 512 GB m.2

MSI GP62 7REX-1045US


GeForce GTX 1050 Ti Mobile, i7-7700HQ, Toshiba NVMe THNSN5128GP

Home Score Accelerated v2
Eurocom Tornado F5


GeForce GTX 1070 Mobile, i7-7700K, Samsung SSD 960 Pro 512 GB m.2

MSI GP62 7REX-1045US


GeForce GTX 1050 Ti Mobile, i7-7700HQ, Toshiba NVMe THNSN5128GP
* ... kleiner is beter