Kort testrapport Lenovo ThinkPad Yoga 14 Convertible
PCMark 7 Score
4967 punten

Help
Samsung SSD PM851 512 GB MZ7TE512HMHP
Sequential Read: 499 MB/s
Sequential Write: 438 MB/s
3DMark 11 Performance
0 punten
3DMark Ice Storm Standard Score
41030 punten
3DMark Fire Strike Score
1595 punten

Help
Geluidsniveau
Onbelast

29.6 / 29.6 / 29.6 dB (A)

Belasting

34.2 / 34.5 dB (A)




30 dB
stil

40 dB(A)
hoorbaar

50 dB(A)
luid

min:

, med:

, max:

Voltcraft sl-320 (15 cm afstand)
(±)
The average temperature for the upper side under maximal load is 32.9 °C / 91 F, compared to the average of 30.3 °C / 87 F for the devices in the class Convertible.
(±)
The maximum temperature on the upper side is 43.5 °C / 110 F, compared to the average of 35.3 °C / 96 F, ranging from 21.8 to 55.7 °C for the class Convertible.
(-)
The bottom heats up to a maximum of 47 °C / 117 F, compared to the average of 36.5 °C / 98 F
(+)
In idle usage, the average temperature for the upper side is 23.8 °C / 75 F, compared to the device average of 30.3 °C / 87 F.
(+)
The palmrests and touchpad are cooler than skin temperature with a maximum of 27.5 °C / 81.5 F and are therefore cool to the touch.
(±)
The average temperature of the palmrest area of similar devices was 28.9 °C / 84 F (+1.4 °C / 2.5 F).
Stroomgebruik
Uit / Standby

0.1 / 0.2 Watt

Inactief

3.1 / 7.2 / 7.7 Watt

Belasting

36.2 / 38.5 Watt




Key: min:

, med:

, max:

Voltcraft VC 940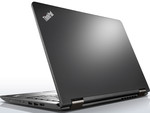 Dit is een verkorte versie van het originele artikel. Het volledige Engelse testrapport vind je hier.
In principe geldt het eindoordeel over de ThinkPad Yoga 14 met Haswell processor ook voor het model met een Broadwell CPU: een zakelijke convertible met een gewicht van bijna twee kilogram en zonder beveiligingsopties zal noch studenten, noch systeembeheerders erg aanspreken. Dan is er nog de erg hoge prijs; Acer biedt met de Aspire R14 voor bijna de helft van het geld een vergelijkbaar systeem.
Aan de andere kant heeft de ThinkPad Yoga 14 ook behoorlijk wat te bieden. Neem bijvoorbeeld de simpele maar elegante behuizing, de accurate invoerapparatuur inclusief een TrackPoint, fatsoenlijke luidsprekers en de lichte AR coating op het beeldscherm. Verder is de processor krachtig en de batterijduur is indrukwekkend.
Onze mening is dat de diverse gebruiksmodi wel van groot belang moeten zijn, want anders is een conventionele ultrabook wellicht een betere keuze. Niettemin schaffen kopers die lichte games willen spelen en het geld ervoor over hebben met de deze ThinkPad Yoga een solide en tegelijk flexibele convertible aan.