HP Spectre x360 13 met Sure View: Wat een manier om een uitstekende laptop te verpesten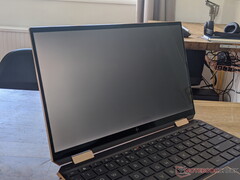 Views, thoughts, and opinions expressed in the text belong solely to the author.
Dit is de verkorte versie van het originele artikel. Het volledige, Engelse artikel vind je hier.
Meerdere mensen hebben reeds anekdotisch geklaagd dat hun ogen pijn doen na enkele ogenblikken ernaar te kijken. Ik denk niet dat dit betrekking heeft op PWM, maar meer op de enorme verschillen in helderheid gerelateerd aan slechte kijkhoeken. Dit geldt zelfs als je recht naar het scherm kijkt.

Over het algemeen zouden we aanraden om de Spectre x360 13 te laten liggen, tenzij je bereid bent meer uit te geven aan de 4K IPS- of 4K OLED-versies. Het Sure View IPS-paneel laat gewoon te veel steken vallen op het vlak van beeldkwaliteit en kijkhoeken.