Kort testrapport Kaby Lake (Core i7-7500U): Skylake op steroïden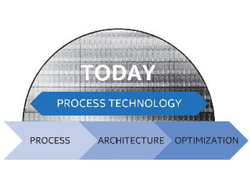 Dit is de verkorte versie van het originele artikel. Het volledige, Engelse testrapport vind je hier.
Toegegeven, Intel's Kaby Lake-generatie ziet er op het eerste zicht redelijk saai uit. Geen nieuw productieproces, geen nieuwe microarchitectuur - dit alles doet ons wat denken aan de Haswell-refresh in 2014, die weinig vermeldenswaardige voordelen op tafel wist te leggen.
Kaby Lake is anderzijds veel meer dan gewoon een rebranding van de Skylake-chips. Hoewel het 14-nm-proces nauwelijks gewijzigd werd, is Intel erin geslaagd het aanzienlijk te optimaliseren. De resultaten zijn verrassend hoge kloksnelheden of een veel lager verbruik bij dezelfde frequentie. Afhankelijk van het frequentiebereik kunnen we verbeteringen in efficiëntie vaststellen van tussen 15 en 25 procent; het blijft afwachten om te zien of het er nog beter uitziet voor de lager geklokte Core m/Y-serie. We kijken ook uit naar de nieuwe quad-core ULV-modellen. Deze zijn gepland voor 2017 en moeten voor een performance-sprong zorgen die we in geen jaren hebben gezien in de 15-Watt-categorie.
Ten slotte hebben we ook een woord van lof voor de herwerkte video-decoder die niet alleen ondersteuning biedt voor HEVC Main10 maar ook veel efficiënter is dan voordien. In combinatie met andere verbeteringen in efficiëntie zouden Kaby Lake-gebaseerde notebooks een nog langere batterijduur kunnen hebben dan hun voorgangers met Skylake-CPU's.