Kort testrapport Asus PB287Q Monitor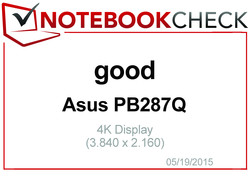 Dit is een verkorte versie van het originele artikel. Het volledige Engelse testrapport vind je hier.
De Asus PB287Q is een goed en niet te duur 28 inch beeldscherm. Wij vinden het jammer dat Asus geen IPS-paneel gebruikt, maar uit gaming oogpunt bekeken is een TN-paneel eigenlijk prima (lagere latency). Of een 4K scherm echt zijn geld waard is, hangt in principe af van de gebruiker. Deze beeldschermen zijn in 2015 geen "must have", maar zijn wel "nice to have".
Het grootste probleem is nog altijd de vereiste van een krachtig systeem. Notebook GPU's in het bijzonder ondervinden problemen met de frame rate in zwaardere games. Zelfs high-end chips als de GeForce GTX 980M of de GTX 970M halen bij hogere grafische instellingen een frame rate van minder dan 30 fps. Dit is echter niet verrassend als je bedenkt dat het aantal pixels ten opzichte van 1920 x 1080 (Full HD) wordt verviervoudigd tot 3840 x 2160 pixels (8 vs. 2 miljoen pixels). In elk geval hoeft het beeldscherm Full HD beeld - bij gebrek aan de benodigde rekenkracht - niet te interpoleren, want elke vier pixels representeren dan een pixel (belangrijk voor de scherpte van het beeld).
Algemene beoordeling: goed